Ok lads, a lot of people have been asking the same questions and i also know a lot of peoples "secret wheels" that they are going to use haha.. well this thread is so you dont have to share that info with even me

It can be confusing but if you want to have the right stance you can A: Guess and get lucky or B: Spend time working it out

You need to know
et (offset) measured in mm
j (width) measured in Inches
inch (size) measured in Inches
If you have an et0 wheel it means that the hub will meet the wheel at dead centre and on most wheels will mean that you end up with dish

You wont end up with dish if the wheel design is concave or flat with extended backing..
Just to get this straight.. you can fit almost any width wheel (realistically most will be 11j) but the wider the wheel the lower the offset will have to be so as to avoid hittin the shock strut.
This will push the wheel outward to and then past your arch depending on how far you go.
Now to standard wheel fitment.. http://www.carlsalter.com/toyota-wheel-fitments.html
Ive gone with the corolla fitment of 4 x 100 (pcd), et35-38(offset), 54(centre Bore, can be changed with spigot rings)
The standard steel wheels are normally 14" x 15.5j
You should use these as the base for fitting wider and/or lower offset wheels.
This is how you should work out the correct et(offset) and wheel size you can run.
Measure the space between the wheel lip and the outer arch and between the inner lip and shock strut.
In the front arch of a e10 corolla with standard struts you have about 1 1/5 inches outer lip and 1 1/2 inches inner lip
So that gives you around 3 inches to play with.
which means that you could have an 8.5j et35 wheel in there with no problems providing your tyres arent wider than your alloys..
For perfect wheel fitment you should go with an 8-8.5j..
a 9j et35 wheel would hit the the strut and protrude from the arch slightly..
to fit a 9j wheel you need either a spacer or lower offset.
the perfect offset for this is 9j et32 as it will move it 3mm further out from the arch and 3mm away from the strut. (which is enough unless you start throwing in massive camber)
so now your left with a wheel that is sticking out from the arch by about 6mm and clearing the strut by 3mm.
So you should get your arches rolled to fit the 9j wheels. at 6mm you dont need to get the arches flared as using a smaller tyre you can clear a rolled arch without rubbing.
For those who havnt seen a stretched tyre:
And this is why using a stretched tyre will help you clear the arch: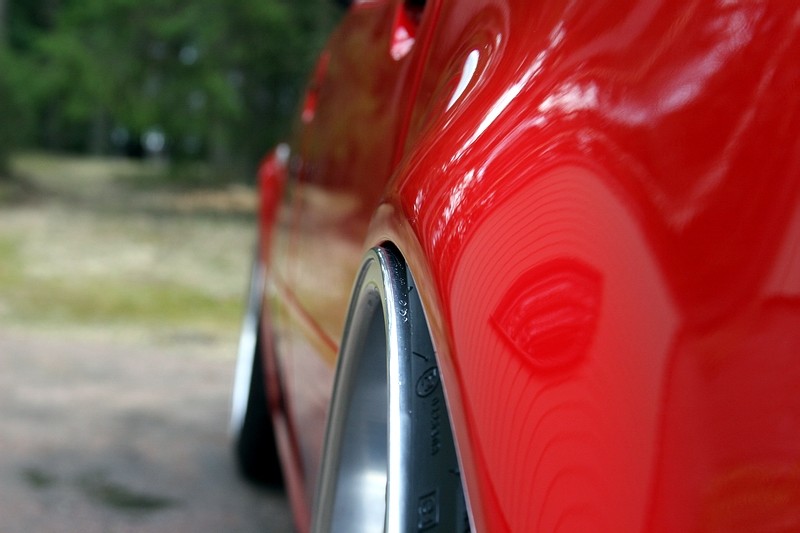 If you have wheels you want to check for the best tyre fitment look here: http://tyrestretch.com
Stretching your tyres gives you a stiffer sidewall, a rougher ride but better handling. a lot of people don like tyre stretch as they believe its dangerous.. but the stories of dangerous tyre stretch come from things like this..
Here is an offset calculator that you can use aswell, could come in very handy.. you still need to take the measurements and compare but it tells you how much the wheel would travel in each direction and saves you from doing those calculations

http://www.1010tires.com/WheelOffsetCalculator.asp
Note; I wrote this as i came from my head.. it might not make sense.. so if it doesnt let me know haha